Reckless Driving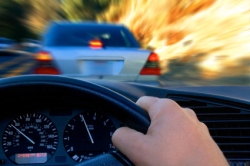 What Speed is Reckless Driving in Washington State?
Washington State law provides no number or range for being over the speed limit. Reckless Driving tickets should not be issued based upon speeding alone, which is supported by Washington State case law (Schwendeman v. Wallenstein).
This unfortunately will not stop prosecutors from filing Reckless Driving charges for something as simple as excessive speed, spinning out, or even doing donuts in a parking lot. A good Reckless Driving attorney can win these types of cases with the right arguments and evidence.
What are Reckless Driving Penalties?
In Washington State, a Reckless Driving ticket is a criminal traffic offense. Reckless Driving charges can result in very serious consequences for all drivers, especially Commercial Driver's License (CDL) holders and others who drive for work.
Reckless Driving is a gross misdemeanor that can result in the following penalties & consequences:
Jail time of up to 364 days
$5000 fine
Probation
Mandatory 30-day driver's license suspension
SR-22 high risk auto insurance for 36 months
Ignition Interlock requirement
Increased auto insurance premiums
Loss of employment (especially for CDL holders)
What is the Definition of Reckless Driving?
According to WA State law (RCW 46.61.500), a person is guilty of Reckless Driving if they "drive any vehicle in willful or wanton disregard for the safety of persons or property." Wanton is defined as an intentional act that a "reasonable person" would understand to be a disregard for the safety of other people or property. Additionally, the driving would need to have a high likelihood of causing harm to be considered wanton.
Why didn't I just get a Speeding Ticket?
The responding police officer has discretion in determining if you should be cited for Reckless Driving or something less serious, such as a non-criminal traffic infraction. In the Tacoma, Seattle, Bellevue, Everett and Olympia areas, law enforcement will often make an arrest or citation for Reckless Driving, even though the evidence suggests that Negligent Driving or a speeding ticket would have been more appropriate.
In Reckless Driving police reports, law enforcement will commonly note that they witnessed behavior such as street racing, erratic driving, excessive speed, or the loss of full control of a vehicle. The opinion of the arresting officer can and should be challenged by an experienced criminal defense attorney.
Is Street Racing Reckless Driving?
Street racing is essentially Reckless Driving so in these cases it is important to fight against the racing element. For example, only going 10 MPH over the speed limit while racing is unfortunately not a valid Reckless Driving defense.
However, it is not uncommon for the police to pull over a driver for excessive speed and incorrectly assume that they were racing, due to the coincidence of another speeding vehicle nearby. With a good Reckless Driving lawyer in your corner, racing can be a difficult element to prove.
How to Avoid a Reckless Driving Conviction & License Suspension
A key part of your defense will revolve around your lawyer presenting arguments that your driving was not a safety threat to any person or property. For example, the speed that your vehicle was traveling is often estimated by law enforcement and this can be challenged in court.
If we represent you, we will do a full investigation to uncover evidence that is favorable to your defense. Over 95% of Reckless Driving cases that we defend result in reduced charges, slow dismissals, or complete case dismissals (dropped charges).
We can normally negotiate a favorable outcome that avoids the risks and unpredictable nature of a jury trial. The facts of your case, your criminal history, your driving record (including license suspensions), and the court where your Reckless Driving charges are filed will also have an impact on your result.
At Beckwith Law, we are highly skilled Reckless Driving attorneys with offices in Seattle and Tacoma, Washington. Our local experience extends to the courtrooms of Pierce County, King County, Snohomish County, Kitsap County and Thurston County, including the cities of Tacoma, Seattle, Bellevue, Everett, Renton, Kent, Olympia, and Lakewood, WA.
Call us today for a free consultation. We will answer your questions and discuss your options.